We go 1,500 miles on Milwaukee's lowest-priced Big Twin, through thick and thin.
Article taken from cycleworld.com
By Andrew Cherney
Updated: October 20, 2020
When Harley launched its all-new Softail series a couple of years back in the mountains near Los Angeles, I remember one of the surprise hits of the-then eight-bike lineup being the revamped, no-longer-a-Dyna Street Bob. It still rocked the same stripped-down vibe as its Twin-Cam-powered predecessor, but rider after rider would come back from a short stint on the new Softail grinning, and mumbling, "Ya gotta try that thing in the curves… It's way better than the Dyna."
The mid-year 2020 Harley-Davidson Softail Standard brings the lowest MSRP of any Big Twin, and comes with few bells and whistles.Miri Stebivka
We all took turns scraping around the San Gabriel Mountains on Ess-Bobs, grinning like hyenas at the nimble nature of the chassis and the torquier Milwaukee-Eight 107. The 12-inch-tall mini-apes were just the ticket for unkinking S-turns, and the Bob's lightest-in-the-lineup weight only encouraged more of the same. Sure, the new Softail Fat Bob was more dynamic and the Heritage more comfortable, but for straight-up hooning around, the skinnier Bob was what you wanted.
The FXST eschews superfluous bits and goes with a basic, bare-bones aesthetic—in fact, you can only get it in black.Miri Stebivka
You might wonder why all the yammering about the Street Bob when what we're supposed to be reviewing here is the Softail Standard, but then it's a fairly open secret that the Standard is simply the Bob without fork gaiters and the wrinkle black finishes. So when I got the call to review this "new" model, I was pretty keen to take delivery; already knowing how entertaining the Street Bob could be had me guessing the Standard would be more of the same. Best part was, I'd be able to hang on to it for a few weeks.
No surprise then, that throwing a leg over the Standard felt instantly familiar. Same low, scooped seat capping a no-frills Big Twin cruiser with a lean bobber profile on a Softail chassis, all propelled by a Milwaukee-Eight 107 V-twin. There are a few infinitesimal differences, like the Standard's chromed laced wheels (19 inches up front, 16 at the rear), mufflers, and fork legs, and aluminum triple trees and heads, but the main externals are shared by both bikes—a solo seat riding above chopped fenders, punctuated by mini-ape handlebars and a smooth, weirdly generic 3.5-gallon tank all arranged around an exposed frame and a V-twin mill. The Softail Standard loses the fork gaiters and wrinkle black treatment altogether, but mechanically, it and the Street Bob are mirror images of each other.
The Standard's Milwaukee-Eight 107 is noticeably quicker on acceleration and much smoother than the previous Twin Cam setup.Miri Stebivka
There aren't many details to tease out of the sea of ebony sheet metal either; the all-black Mil-Eight engine gets polished rocker, primary, and timing covers, and the blacked-out dog bowl air cleaner is punctuated by a single silver bolt. Chrome shields and mufflers on the 2-into-2 shotgun exhaust make up the rest of the brightwork, while up front you get clear-coated fork sliders and a blacked-out bucket with chrome trim holding a classic Cyclops headlight (though this one is LED), with the same compact digital gauge in the upper handlebar clamp displaying relevant info. Keeping with the spartan theme, Vivid Black is also the sole color option on this model. It actually feels like Harley knows (or hopes) you're gonna farkle this one up anyway, so why bother with exotic stuff? Also appropriate is the Standard's price tag: At $13,599, it's the most affordable Softail.
You won't find many rich details or fancy finishes on the Softail Standard, but then that's the whole point.Andrew Cherney
And, really, having a "prequel" bike isn't such a terrible idea. In fact, H-D did it with 2018′s Electra Glide Standard too, another stripped-down model that was said to be "ripe and ready for customization," positioned as the least expensive bike in the touring platform. There was even a previous Softail Standard years ago, also called the FXST, though the new Standard, also an FXST, has little in common with that one, which rolled with a Twin Cam mill (and a big, old 21-inch front hoop).
Staggered shotgun pipes on the Street Bob are black, but otherwise they're the same as these on the Standard.Miri Stebivka
Picking up the Standard and running it around Southern California for a couple of days gave me the chance to get reacquainted with the Softail platform in an urban setting before heading north for a longer leg. A twist of the throttle delivers that same familiar rush of torque from the 107, which feels more responsive in lighter-weight Softail models like the Bob and Standard. The 1,746cc engine with a single camshaft actuating eight valves via pushrods is noticeably quicker on acceleration than the previous Twin Cam setup, and factory-added internal counterbalancers work to make this engine far smoother too.
The dyno shows how quickly usable torque comes on the Standard, staying accessible for a relatively long period.Cycle World
Over the course of several weeks with the Standard, the fueling, managed by a single electronic-injection throttle body, has also been hiccup free and consistent as can be. You can also feel the meatier torque boost over the dearly departed, rubber-mounted Twin Cam engine, and it means the Standard has plenty of punch to jump ahead of traffic, but chill enough to burble along at low revs once the madness dies down.
On the Cycle World Dynojet dyno, the numbers backed that up, with the torque curve going nearly straight up from idle before peaking at 99.37 pound-feet at a low 2,500 rpm and mostly leveling off for 1,000 rpm before heading downward. The dyno run also revealed a peak power output of 72.74 hp, which seems lackluster on paper, but any H-D owner will tell you it's all about the torque; cruising at 80 mph on the Softail Standard you're still only turning 2,950 rpm, for a forceful but unhurried vibe. I found there was plenty in reserve for easy passes around sluggish RVs, and although the vibes rise with revs (higher-frequency pulses come mostly through the bars) it's almost negligible until you get north of 75 mph.
Also, the Standard's power output is on par with the many other Softails we've run in recent years; for example, that 2018 Street Bob we mentioned earlier showed 73.94 horses at 4,950 rpm and 104.79 pound-feet of torque at 2,570 rpm. None of these are rocketship numbers by any means, but in the real world, they're good for ear-to-ear grins and add to the classic feel of this excellent engine.
The stubby solo seat is solely there for looks, with an unforgiving shape locks you into position on long rides and offers little support. Around town? No problem.Miri Stebivka
The next few days were spent cruising to the coast and zipping around town, unburdened by luggage, with a couple of runs in the canyon for good measure. The Standard's riding position fit me pretty damn well initially, though the 26.8-inch tall seat was lower than I'd like (and I'm 5-foot-7 with a 29-inch inseam, so that'll tell you something). Both the Bob and Standard have the same seat height, and combined with their similar mid-mount control layout (or more accurately, forward-biased mids) that meant the hip-knee-foot triangle was more acute than I was used to, but still reasonable for my dimensions.
I can't say the same would be true for anyone over 5-foot-9—they'd definitely need forward controls (available as an option), as resident beanstalk Gales demonstrated after copping a squat on the Standard. No joke, at 6-foot-4 he was literally squatting. But for my stumpy physique, things felt natural, with the high-and-narrowish mini-apes putting my hands straight out in front of my shoulders, and offering almost dirt-bike-like leverage when bombing into tighter corners.
The riding position is still compressed for a Big Twin, so this Softail can feel almost like a Sportster from the cockpit, but that also gives the rider a greater level of control. I'd argue the Standard is more fun to fling around mountain roads than even the Fat Bob, thanks to the not-so-wide H-D-branded Dunlops which provide good grip and offer less resistance to directional changes. Steering is overall lighter than on most of its series brethren, and the bike just feels (relatively) nimble.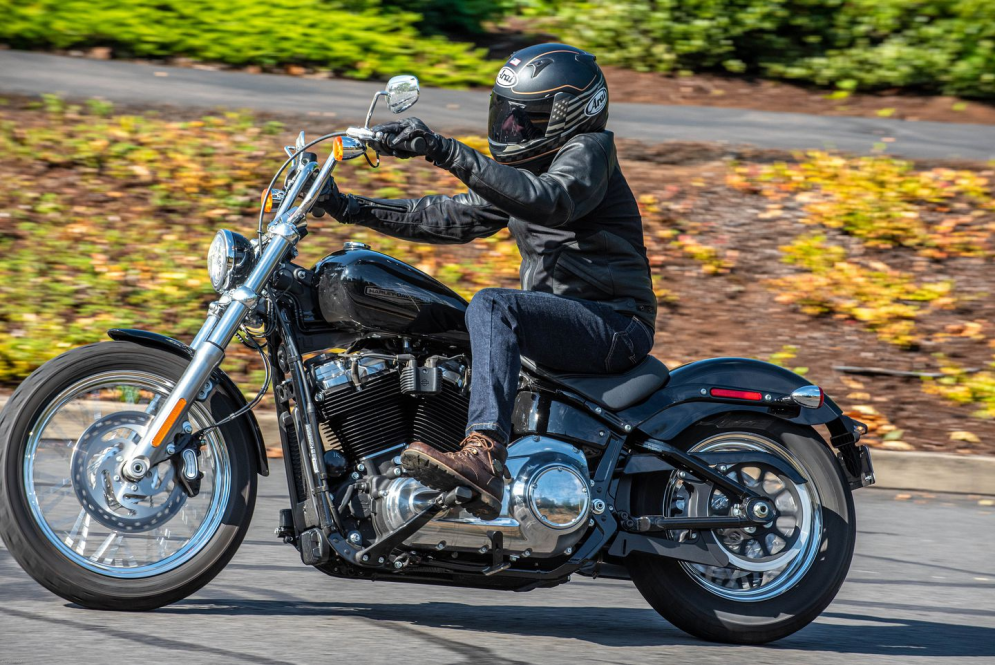 You'll get all kinds of leverage from the mini-apehanger handlebars, though they do hang you out in the wind at speed.Miri Stebivka
The Standard may be the lightest of Harley's Big Twins (or at least close), but you definitely feel its 650 pounds (fueled) when wheeling it around the garage. There's a caveat though; the Standard is heavier than it looks, but rides lighter than it seems like it should. Because it carries its weight so low, the bike feels super manageable and sure-footed, qualities that will definitely build rider confidence.
In fact, turn-ins are remarkably easy, and the mini-apes make it cinch to change your line, even midcorner. Add the claimed 28.5 degrees of lean angle on either side, and unlikely as it may seem, the Standard can be called—within reason—a canyon carver. Or at least until the turn tightens up and the pegs start scraping, which they will do fairly quickly despite the lean angle, and especially if you go deep at the apex. After that happens, you'll hear the exhaust contact pavement on the right, so it's best to use the peg scrape as a warning to ease up. Not helping matters is the fact that the dished seat will limit any body movement aboard the bike as well. Fortunately the Standard's shifting setup doesn't require much foot action to engage, plus the ratios are well-spaced, with sixth being a full overdrive. You'll never find yourself winding the Standard out anywhere near redline. Neutral comes easily too, and clutch pull is lighter than we remember, but it still has some weight to it.
To access the rear shock for preload adjustment, you'll need to remove the rear seat.Andrew Cherney
A big reason for that better-than-expected handling is the Softail chassis and upgraded suspension, both of which help distribute the Standard's 650-pound payload evenly. Up front you get a nonadjustable 49mm right-way-up fork with a touch more than 5 inches of travel, but they do pack Showa's dual bending valve stems for a more even damping response. A horizontally mounted monoshock under the seat modulates hits with just 3.4 inches of travel and is adjustable for preload—though you do have to take the seat off to get to it, which is a bit annoying. In town, the dual rate springs up front will absorb moderate pavement nuisances without much complaint and there's never a wallowy feel, with good stability on the tighter bends and a general composure. But both ends of the bike can handle only so many rougher patches, with damping suffering particularly from the limited travel out back. The 3.4 inches of travel on the monoshock give you only so much stroke before you find yourself bracing for every railroad track crossing.
Which means you should adjust the rear shock's preload for your size right off the bat and eke out as much comfort as you can. According to H-D, setting for my 160-pound weight should be on 0.5, but I went higher to keep the ride height a bit up and to accommodate the added weight I'd be carrying on longer legs of the trip.
With single-disc front and rear brakes though, I found overall stopping power to be about average—or adequate, anyway. At slower speeds the front 300mm disc and four-piston combo deliver a solid initial bite if you mash the lever firmly enough, though feel could be more progressive. An antilock braking system is optional on the Standard ($795), and our test unit came with it, for which I was grateful a couple of times in town. I found the brakes' limits on a couple of panic stops, and with most of the stopping power coming from the front disc, it helps that it's easy to modulate action there. The rear brake feels mostly indifferent though, and it's difficult to get the full amount of pressure on the pedal.
Single-disc front brake is adequate for hard stops, but a firm grip (and, ideally, the ABS option) is recommended.Miri Stebivka
As much fun as I had tooling around the Greater Orange County area, the open road was calling, so I hefted a 40-pound backpack over my shoulders (no luggage had been ordered for the bike yet) and steeled myself for a 1,100-mile trip back to Oregon. I'd done that slog a dozen times before on a dozen different bikes, I thought, so no sweat, right?
Let's just say that several freeway hours into day 3 heading north is now what I refer to it as the Day the Laughter Died. The 1,100 miles of straight riding, I had reckoned at the time, would be a great way to "torture test" the bike, in full. Turns out the torture test was on me. To be fair, that's because I took the Standard way out of its wheelhouse. Long story short, the bike did phenomenally. The Standard hits a sweet spot of stability and power in high-speed sweepers, with the bike feeling supremely planted and ready for more from the M-8 107 engine. A big-time flywheel effect combines with a steady thrum that sort of grows on you over the miles, though I will say the stock exhaust note sounds far too muffled and sterile. But there's power everywhere, and a fairly well-dialed throttle response means you're never far from even more torque.
Mechanically, the thing ran flawlessly over three days and 1,500 miles; it was the rider who suffered. Blame the ergos and high-speed runs for that, which would combine to turn me into a full-blown sail gritting it out for hours in the wind, especially if I ignored speed limits, which I did often. Leaning forward helped, but I did that more so as to give my butt a break.
Tallish mid-mount controls and a low seat conspire to make a compact angle for long-legged—and even short-legged—riders.Miri Stebivka
To be blunt, the Softail Standard's rider triangle—the crucial positioning of your legs, arms and butt in relation to each other on the bike—is not designed for long-distance travel with comfort. We know how well the mini-apehangers work for short distances, but on long rides at freeway speeds, the hands-up riding position meant I was out in the wind like a sail, with the extra stretch in my arms only amplifying jolts through the thinly padded seat. I'd be hanging on those grips with the wind pushing me the other way like a freight train. And the combination of low seat and somewhat high mid-mounts conspire to put the squeeze on unprepared hip flexors, even with my stubby dimensions.
The short-travel rear suspension doesn't do you any favors either, with even smaller bumps becoming magnified at speed; I bottomed out only once or twice, but with a 40-pound pack on my back, it's enough to squeeze out some tasty epithets afterward. If you're trying to make distance, you end up cursing this riding position a lot.
In fact, I'd look forward to gas stops so I could stretch out some of the tightness.
Only 3.5 gallons is on the small side for a fuel tank, which limits the Standard's range. As a price-point concession, the H-D logo is a decal, not paint.Miri Stebivka
Which leads me to the next issue with the Standard: It's got a pretty limited range, thanks to the small 3.5-gallon gas tank. I averaged about 152 miles per tank, but that varied substantially with the weight of my throttle hand; one of the early, higher-speed stretches yielded only 127 miles before the low fuel light went on (though that was when I was still figuring out the Standard's range, and it came on fairly early). I eventually found that an average speed of around 75 mph would yield decent range while still making reasonable time; higher speeds would seriously impact range. Fuel management became the primary concern as I found myself traveling through more remote stretches of the Pacific Northwest, and I'd find myself consulting the LCD info panel in the handlebar clamp pretty regularly. It's easy to read in direct sunlight and I'd have either speed, trip odometer, fuel level, or range estimates at the ready, with the option of scrolling through the menu just a button away on the left handlebar. All give you a fairly good idea of when your next fuel stop—or emergency call—will be, but it's best to plan ahead and fill up often. As I mentioned, it's another good reason to get off the bike and stretch out since you will have reached your comfort limit by then.
The info gauge became my best friend when doing long distances on the Standard. Fortunately it's easy to read.Miri Stebivka
I'm not gonna lie; by the time my garage door came into view, I was practically weeping tears of joy. But I also realized that this test was about context. Despite the backbreaking riding position, despite the small tank, despite the lack of wind protection, there's no question the Standard is a full-on fun ride when you keep it in its element.
Sure you can tweak the ergos and such, but a touring bike this will never be. But that's OK, because sometimes all you want is an engine, tank, bar, and wheels, and to get back to the basics. No electronic gimmickry or doodads, just an elemental yet modern, easy-to-ride, nicely balanced motorcycle that just happens to tap into a simpler time. It also happens to be the most affordable, lightest, and best-handling of Harley's Big Twins.
Although the Standard is simply positioned as the most economical alternative in Harley's Big Twin ecosphere, it also exists as a canvas to customize—and a mechanism for The Motor Company to sell parts and accessories. So, just like some of its competitors (Triumph and Indian, for example), H-D has prebundled four curated accessory packages for the Standard if you want it all done for you.
One of the cooler accessory collections for the Standard is the Coastal Custom Package with Quarter Fairing and black Moto Bar.Harley-Davidson
There's the Day Tripper Custom Package, which adds a pillion, sissy bar, and forward controls; the Touring Custom Package with a two-up seat and sissy bar, windshield, and saddlebags; and the cool Coastal Custom Package, which tacks on a Quarter Fairing and a moto-style handlebar atop 5.5-inch risers with a two-up seat. The Performance Custom Package bundles a Screamin' Eagle Stage II Torque Kit and a Screamin' Eagle Pro Street Tuner, but the M-8 107 engine also accepts other Harley-Davidson Screamin' Eagle Stage upgrade kits as well.
After 1,500 miles, I have a pretty good idea of what changes the Standard needed, so I'll be mixing and matching parts from some of the different kits to tweak the ergos. The main swaps will be different bars, some wind protection, definitely a different seat, and perhaps some pipes to give the Standard a bit more bark.
Since we're hanging on to the Standard for a little while, we'll be making a few (mostly ergonomic) changes to it.Miri Stebivka